Living and traveling in a campervan is a real goal and challenge to anyone interested in the van life. Places, where you'll travel next, are one primary consideration that you have to think about. Finding sites that are relaxing, adventurous, or safe for you if you travel alone, with a partner, or with your kids is essential. That is why I prepared some kind of a travel guide for you, listing those magical places that you can explore while living in a van.
1. Upper Peninsula: Offers A Great Sight in Michigan
The Upper Peninsula is a sight to see in Michigan. This tourist spot features towering cliffs, lakes, coastlines with beaches, and forests. The Upper peninsula also offers a view of the northern lights if you are lucky enough by the moment you look at the sky.
There are many places you can visit in the region. One of the famous attractions is the Lakes, with sand beaches, and forests in the Porcupine Mountains Wilderness State Park. The state park admits tourists for $12, which included the license plate renewal for the residents. Non-residents will pay $9 for a daily pass and $34 for an annual pass.
Another attraction that you might want to visit is the Keweenaw Peninsula, where you can find the Brockway Mountain Drive with an incredible copper view and the Isle Royale, which entails a $7 per day pass. You may also visit the Kitch-iti-kipi or the "Big Spring" at the Palms Book State Park for a fee of $9 daily for non-Michigan residents.
If you are thinking of where to leave your van and stay overnight, the Porcupine Mountains Wilderness State Park offers van lifers two campgrounds. First is the Union Bay Campground, which allows campfires and pets. They also have toilets, showers, picnic tables, and potable water available for $28 per night. 
The second one is the Presque Isle Campground, which is $17 per night. It offers a campfire, toilet, picnic table, and potable water, and they allow pets! Just a reminder that the campground only accommodates six guests or cars per site that have a park listing reservation.
Other campgrounds around the Isle Royale area include Beaver Island Campground and Chippewa Harbor Campground, which both have a stay limit of three days, non-potable water, composting toilets, and no showers. However, fees can be waived if you have paid for a pass upon the entrance at Isle Royale. 
2. Iron Mountain: Located in Poway, San Diego
Located right off Highway 67 in Poway in San Diego, Iron Mountain makes one excellent hiking spot in the US. This hiking spot has many trail openings that lead to majestic views aside from the beautiful and fulfilling experience of going up there. 
The Iron Mountain will let you pass by an oak corridor near the opening of the trail. If you are lucky enough, you might see blue jays that may appear along the way. Of course, by the time you're at the summit, you will have a view of San Clemente and Catalina Islands as well as the majestic Mount Woodson.
Hiking the mountain following a trail will not cost you any bucks nor any permits. You will just need to park your RV in a designated parking lot by the mountain range where you can find pit toilets but unfortunately, no water. You might want to bring your bike along with you because this is a biking-friendly trail, and don't forget to put a leash on your dogs if you would like to bring them along with you.
Although Iron Mountain's parking spaces might allow you to park while hiking, they won't allow overnight parking. So if you wish to sleep overnight, you may go to Lake Poway's nearest campground. This campground will let you in for $25 per car; just make sure you book a parking space in advance and arrive by five in the afternoon, then leave the next morning by nine.
3. The Well-Known Grand Canyon National Park
Grand Canyon National Park is located in Arizona. The park serves as a home to the famous Grand Canyon revealing a geological history and its layers of red rocks. 
Upon visiting the Grand Canyon, a view from Yavapai and Yaki of the canyon will welcome you. Also, look forward to taking the Bright Angel Trail and letting your heart be captivated by the Indian Gardens, Tonto Bench, and the Colorado River. 
If you are looking for a place to stay for the night, you may go to the Trailer Village nearby which offers van parking spaces but will not allow vehicle washing. However, suppose you don't want to be bothered by going outside of the park. In that case, the Grand Canyon has Grand Canyon Railway RV Park, which will give you access to a TV, Wi-Fi, a laundry area, and some picnic tables by the pavilion for around $60 per night maximum of six nights. 
4. Route 66: Features Different Nearby Sites to Visit
Route 66 only by the name is not a specific location but a drive that will give you access to the nearest sites to visit. Also located in Arizona, this well-known route will lead to the Grand Canyon, Petrified Forest, Flagstaff, and Meteor Crater views, which is just a minute's drive.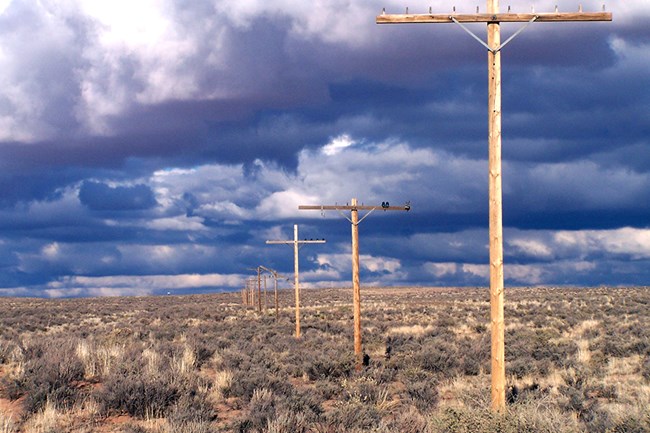 Since driving through this route to take you to different spots might be tiring, I will tell you some of the nearest places where you can choose to stay for the night. First is the Flagstaff KOA, which offers van spaces for a maximum of eight people per area, with amenities like Wi-Fi, water, and electricity. The Flagstaff KOA is a pet-friendly deluxe-type site you can book for around $55 per night.
Another campground is the Greer's Pine Shadows RV Park, a central hub on the nearest destinations for your Route 66 trip. The site will give you electricity and water hookups and internet connectivity; however, there are no restrooms and any shower facilities available. Book the parking space at $42 per night.
You may also choose to stay on one of the sites you may pass along while taking the route and enjoying its views. The Meteor Crater RV park with 71 RV sites, three tent sites, two dry camping, and 36 full hook-up sites. The RV park has Wi-Fi, coin-op laundry, a convenience store nearby, restrooms, hot showers, a dump station, and gas or diesel. 
A full hook-up on your RV will cost $55 per night. Just remember to keep an eye on your dogs and put them on a leash. Vehicle washing and smoking are not allowed. 
5. Crater Lake National Park: Located in Oregon
The Crater National Park is located in Oregon and this crater lake is the deepest lake in the United States that is about 1,943 feet deep. The crater lies inside a caldera, which views the nearby mountains, peaks, lakes, and greenery forests.   
Upon entering the Crater National Park, vanlifers or private vehicle owners need to pay $30 during summer and $20 during winter for a seven-day pass. However, they may choose to buy a $55 annual pass if they wish to come back some other time during the year. However, the park releases free passes that will be given only during selected holidays.
You can use the passes that you have purchased to roam around the wonders of the Crater. First, you have to watch a film about the lake and its history. Then you may explore the Rim Dive or ride boats during the Crater Lake tours. You may also experience the wildlife, do some winter activities since the area is frozen and cold, or bike around the Crater Lake Trail.
You will be able to see the lakes featured in this Crater by taking the Cleetwood Cove Trail. Following a hiking trail, you will witness Mount Thielsen, Garfield Peak, and Mount Scott's mountains and peaks. Don't forget the tours to the Wizard Islands, Phantom Ship–a rock island–and Plaikni Falls.
There are also parking spaces and affordable campgrounds near Crater Lake National Park. One of these is the Mazama Campground, which is the only campground inside the park that accepts RVs and vans. The campground has access to nearby restaurants. They also offer full RV hookups with amenities like a shower room. You can make reservations for $23 to $32 per night.
The nearest outside camping site that's affordable is the Lost Creek Campground which is a forest campground best for a safe wild camping experience. It is a campsite policy to take in campers on a first-come, first-serve basis for $5 a person per night. They will only accommodate two cars that have a maximum stay of 14 days. The campground allows pets and has potable water and restrooms. Indeed a safe place to enjoy the calm of the forest.
6. Denali National Park: Located in Alaska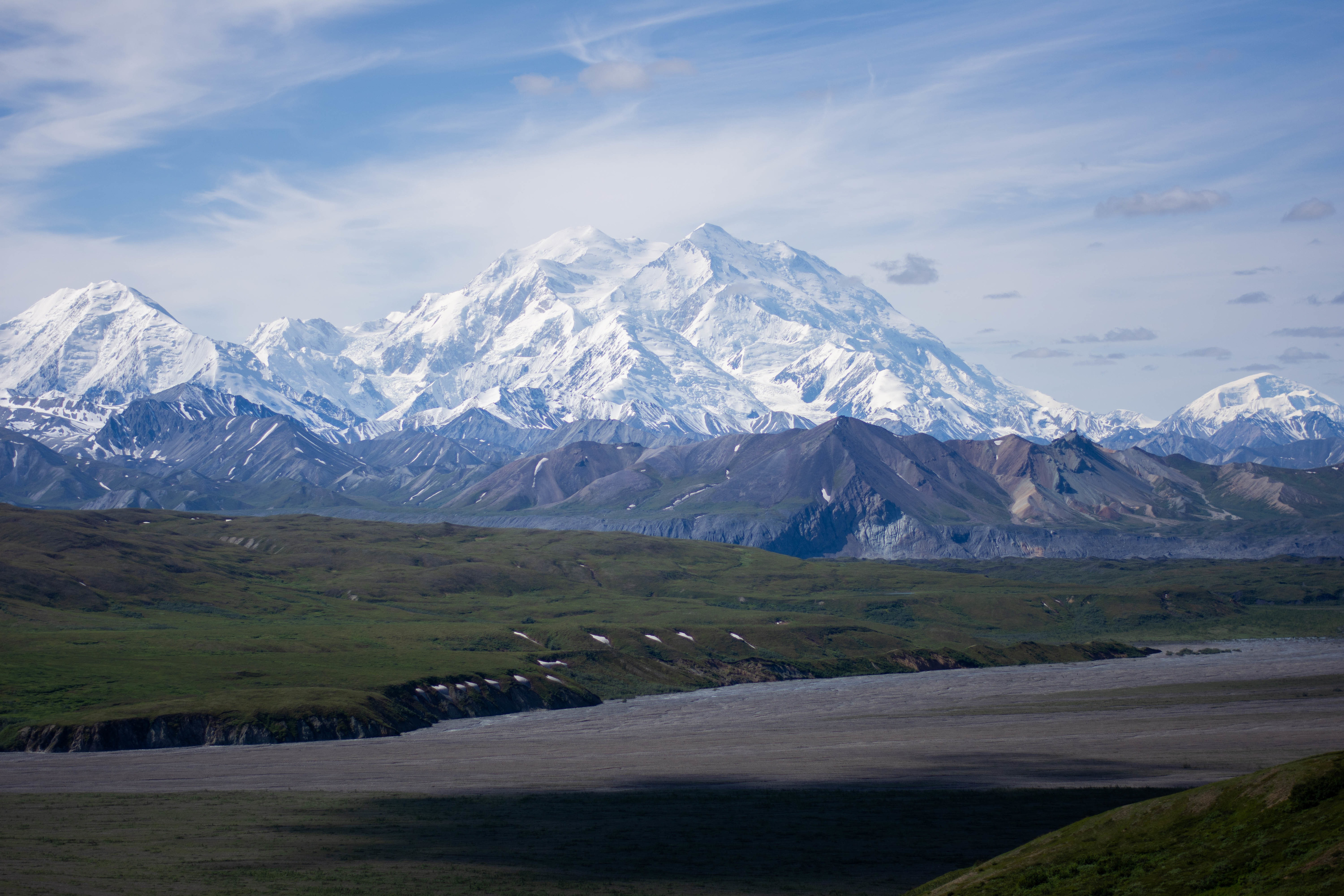 The Denali National park is another attraction featured in the many national parks of Alaska. The park contains six million acres of Alaska's interior wilderness and North America's tallest peak, Mount McKinley.
In Denali, you may take a free hiking trail led by a park ranger which you may inquire about upon booking a trip to the park. Then, go and explore the Savage river loop, walk, or bike along the mountain trails nearby. You can meet the Denali Sled dogs, also a free service offered by the park rangers.
Denali National Park also has a park road where you can take a bike ride if you have brought it along. While doing so, you will be surprised by the view of Mount Foraker. You may also take a route to see the Polychrome Pass, a narrow and steep road in the Denali National park that views the multi-colored volcanic rocks.
After a long trip around the Denali National Park, you may suit yourself on the nearby campground that will welcome your RV. First, is the Riley Creek Campground which will cost $27 to $34 per night depending on the size of your RV during summer and free in winter. The campsite has useful internet and cellular connectivity, hot showers and restrooms, laundry, a dump station, and potable water. However, they don't offer electricity hook up. 
The Savage River Campground, on the other hand, sits in the spruce forest. You can book for $27 to $34, depending on the size of the vehicle. This is more likely to be a wild camping experience for you. There are no electrical hookups, no shower, internet, cellular connectivity, and no dump stations. The camp only has flush and vault toilets and potable water. The good thing about settling the night here is that you have the river's free scenic view and access to hiking trails.
Parking and staying at the Teklanika River Campground entails campers on an RV a three-night minimum stay. Wherein the RVs should remain parked throughout the stay. A Tek Pass worth $43.50 is recommended for RVs rather than a nightly pass of $29 per night. The campground may not have other amenities except for water, toilet, and trash collection, and they give access to activities near Savage River, a bus tour, and a peaceful stay by the woods.
Denali Rainbow Village is private parking for RVs that offers 55 full and partial hookups of 20 or 30 amp for RV. The park has a dump station, clean toilets, paid showers, laundry areas, and accessible stores with available RV supplies. They will provide you with half an hour of free Wi-Fi, which succeeding time shall be paid for, free cable tv access, and a pet-friendly area to walk your pets!
7. The Cabot Trail: A Great Place to Visit in Canada
The Cabot Trail is found in Nova Scotia, Canada. This trail offers many hiking adventures from different mountains and sea views you may encounter along the way. You will find some of these hiking spots mentioned here.
Cape Breton Highlands lies the highland or mountainous plateau you'll find across the northern part of Cape Breton Island. Upon entering the area, adults 18 to 64 shall pay a CAD 7.90 fee, seniors 65 above CAD 6.90, while youths 17 below are free, but if you are a large group or a family, you may pay CAD 16 the whole group.
In hiking the Cape Breton Highlands, campers must remember not to approach, disturb, or feed wild animals. Do not walk alone; otherwise, tell somebody. Keep your trash with you, stay on boardwalks, although bikes are permitted, stay on indicated sites. Wear appropriate clothes for hiking, and bring water and insect repellent with you.
Another peak to hike is the Gypsum Mine Quarry & Trail, which will reward you with a beautiful view of the Gypsum Mine Lake. The only rule in walking the site is not to bring any motor vehicles by the trail and keep the garbage with you. What you took up shall be taken back down with you.
Our last featured attraction is the Meat Cove Campground & beach. This is a good place to reward yourself with a lovely sunset by the beach. Meat Cove also has campgrounds where you can park your RV and stay for the night.
Setting up a camp by the Meat Cove Campground & beach entails a fee of CAD 40 plus taxes per night. The beach is equipped with shower and toilet facilities. There's also Wi-Fi access and drinking water to avail.
If you are looking for a wild camping experience, try boondocking by the Fishing Cove Backcountry Campground found in MacKenzie Mountain. Like all backcountry camping, the site is free of charge, but van campers shall secure Chéticamp or Ingonish Visitor Centers' permits. Just remember not to use open fires, pack out all your garbage and bring clean drinking water.
Broad Cove Campground stands by the beach. The campground has access to flush toilets, showers, and fire pits. You may also indulge in their outdoor theatre, swim in the ocean, go hiking or let your kids play in the playground. They also offer RV hookups for electricity and Wi-Fi for CAD 7.90 for adults, CAD 6.90 for seniors, free for youth, and CAD 16 for a group.
Along the Cabot Trail are places where you can stop and eat. Some of the best places to eat are the Chowder Hut Restaurant, Coastal Restaurant & Pub for lobsters, Farm to Fork Food Truck at Big Spruce Brewing, L'abri Café, Restaurant et Bar, and Stand & Stuff Your Face. These places can be found along the trail.
8. Icefields Parkway: Located in the Canadian Rockies
Icefields Parkway is a site in the Canadian Rockies with 100 ancient glaciers, cascades of waterfalls, dramatic rock spires, and emerald lakes, found in the middle of Alberta and Jasper. A scenic place in between a Jasper mountain town and Lake Louise.
By exploring the Icefield Parkway, you'll see the Columbia Icefield. One of the largest ice fields south of the arctic circle straddles Banff National Park and Jasper National Park. Next is Bow Lake, which is the headwaters of the Bow River. The river runs through Calgary and onto the Oldman River, and ultimately to Hudson Bay.
While Peyto Lake and Bow Summit are described as a glacier-fed lake view of Bow lake, just around the area, you will find the Weeping Wall, which is said to be a crying mountain. The wall bears the name of Cirrus Mountain, which has river tears in the form of falls, with its main fall being called teardrop.
Saskatchewan River Crossing is where three rivers meet: North Saskatchewan, the Howse, and the Mistaya. The resort nearby has public bathrooms, gas stations, and a restaurant. On the other hand, Parker Ridge has a hiking trail that you can take for approximately two hours, rising 250 meters or 820 feet above sea level.
To access the Icefield Parkway, tourists shall go through Banff National Park where admission fees–aside from parking and camping fees – are as follows: Adults shall pay CAD 10.00; Seniors for CAD 8.40; Youth under 17 is free; family or group fee costs CAD 20.00; and for commercial group per person costs CAD 8.40.
For park passes, both the RV and the car will need a parking pass valid for the number of days they will stay in the parks. Annual Discovery Passes are also available for all attractions in the parks. For adult passes cost CAD 67.70 (age 18 to 64); Senior for CAD 57.90 (age 65 and up), youth 17 and under is currently free; family or group passes for CAD 136.40 (up to seven people arriving together in a single-vehicle).
Since we have discussed fees you'll need to prepare for, let's get you to the campgrounds where you can stay upon entering the park. First will be the Waterfowl Lakes Campground, where a night costs CAD 21.50 per site without fire and CAD30.30 per site per night with a fire (wood is provided).
Waterfowl Lakes Campground has three dry toilet facilities, and one washroom with flush toilets with hot and cold running water. The campground also has picnic shelters, food lockers for walk-in campers, and Sani-dump. However, the site has no cellular phone signal access and probably has limited to no Wi-Fi access.
By staying in the camp, RV campers must remember an alcohol and fire ban in effect from 11 pm to 7 am every day and a complete alcohol ban on long weekends. The maximum stay for the campers is 14 days.
Meanwhile, Mosquito Creek Campground has 32 campsites that have picnic tables and fireboxes. Its sites are suitable for tents and small RVs up to eight meters or 27 feet. Only a maximum of six people and two vehicles are only permitted on each site.
The campground has amenities such as two dry toilets, a picnic shelter, and food lockers for walk-in campers on each site. There is solar-treated potable water and a Sani dump at Lake Louise, but there is no cell phone coverage like at the last campground. 
Those who will choose to stay for a couple of nights here must remember that there is also an alcohol and fire ban in effect from 11 pm to 7 am every day and a complete alcohol ban on long weekends. The maximum stay is also 14 days, but the check-out time is 11:00. You must also pay a fee of CAD 17.60 per site per night with no fire and CAD 26.40 per site per night with a fire.
For foodies, you might find Sunwapta Falls Rocky Mountain Lodge and Columbia Icefield Centre Dining Room, which are around the park's vicinity, the right place to fill your stomach and satisfy your food cravings.
9. The Sea to Sky Highway: Vancouver to Whistler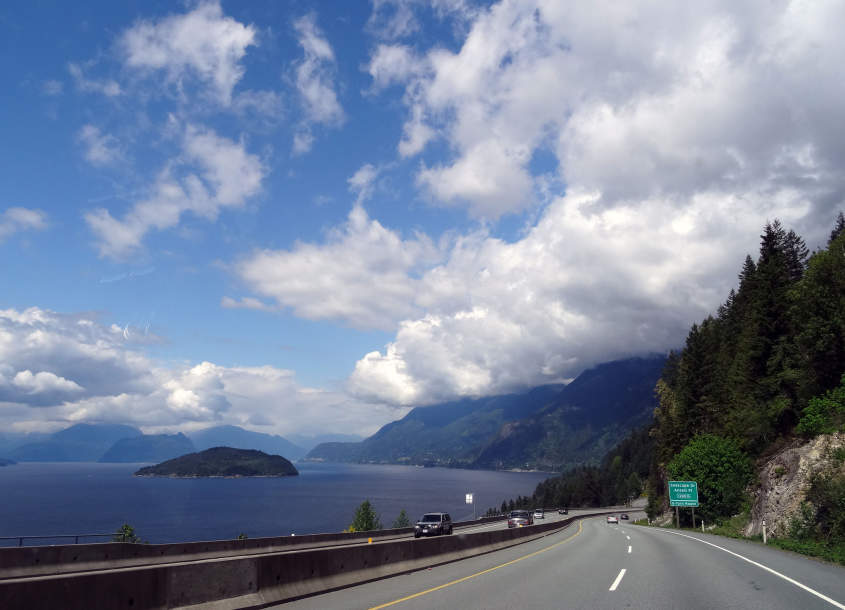 The Sea to Sky Highway is a route you'll take from Vancouver to Whistler. There is no entrance fee for the drive, but one must be prepared for tolls. So let me tell you first to park or boondock your Rvs during stopovers and day tours.
Burnaby Cariboo RV Park & Campground, Vancouver, is a deluxe RV park. They have Wi-Fi, separate tent camping areas, an indoor pool, and a jacuzzi. They will also let you enjoy their fitness room, games, room, and playground.
The place is also equipped with a laundromat, a coin-operated RV wash, a free RV washing area, and a store where you can buy your supplies. Fees, however, are quite expensive. During summer, campers with RVs 31 feet and under should pay CAD 69.29 per day and CAD 364.28 for a week's stay. While those with RVs 32 feet and over will pay CAD 74.28 a day and CAD 390.71 for a whole week. 
There is Halkett Bay Marine Provincial Park with a camping fee of CAD 5.00 a person per night. However, it has separate parking fees for vehicles such as docking, paid CAD 2.00 per meter, and mooring for CAD 12.00. This park only has a pit or flush toilet because it is tagged to be a wilderness campground, almost boondocking with a fee.
Another parking space along the way is the Porteau Cove, Provincial Park. They will only charge for overnight use of dock facilities with CAD 2.00 per meter; overnight use of mooring buoy CAD 12.00 per vessel; but front-country camping will be CAD 35.00 per party per night. Along with these fees are amenities like drinking water, shower, electricity, and toilets.
Garibaldi Provincial Park is a backcountry camping that only has toilets as an amenity, costs CAD 10.00 per adult per night and CAD 5.00 per child (up to age 15). However, being this inexpensive, you need to secure a permit from their website.
Driving by the highway, you may want to stop by the views you might find. Here, you will see the coast mountains or the Whytecliff Park by the Horseshoe Bay and get some fresh ocean air. Or you may stop by the Britannia Mine Museum, a National Historic Site, and explore the Squamish town known as a haven for outdoorsy types. Then end up staying by the Garibaldi Provincial Park, where you can see the crystal-clear lake, mountain vistas, and alpine wildflowers while camping.
While on the trip to the Sea Sky Highway, rest from driving and eat at the restaurants along. There is the Basecamp Café, Galileo Coffee Company, Squamish, Function Junction, and Valley Lumina, which you can choose from.
10. Grassland National Park
Grassland National Park is at SK, Val Marie, Canada. You may experience the wildlife and visit the burrowing owls in the park and the over 216 species positively identified, threatened, and endangered species, such as prairie birds. You will also see the endangered Black-Tailed Prairie Dogs, the Greater sage grouse, Pronghorn–the second fastest land animal on the planet, ferruginous hawks, and the American or plains bison.
While visiting the wildlife, it is essential to remember not to feed or approach wildlife – this harms their health, alters their natural behavior, and exposes them to danger. If permitted, you may do front country hiking and backcountry hiking, camp within the park, and maximize your stay by participating in the Dark Sky Preserve viewing.
Now, you might be wondering how much the admission fee is. Adults should pay CAD 5.90, seniors CAD 5.00, youth under 17 is free, a family or group CAD 12.00, and commercial groups, per person, costs CAD 5.00. While camping rates are different and separated.
Front country camping serviced with electricity costs CAD 30.05 per night; equestrian camping is CAD 21.97 a night, and overflow camping costs CAD 16.05 per night. Backcountry use and camping are charged per person. An overnight costs CAD 10.02, but an annual fee is CAD 70.21.
Since I have already mentioned camping rates, here are the park areas where you can park by applying the fees. First, the Frenchman Valley Campground at the West Block is a hundred percent reservable and has 20 electrical sites, available fire pits, lantern hangers, and picnic tables. 
The Frenchman Valley Campground has easy access to vault toilets and potable water for small drinking jugs. The park reminds us that RVs must fill up tanks in advance because water may not be available during some seasons. It is also close to Coulee Centre –a respite from the heat, a location for cooking and eating. Wi-Fi is also available in the area, but you must make reservations due to limited parking space.
Rock Creek Campground on the East Block has 24 Tent and RV electric sites (all 50 amp) with fire pits and picnic tables. The site is equipped with a vault toilet, potable water only for jugs, an RV dump tank, and a community fire pit.
West Block has a backcountry campsite wherein the campers must register first at the Visitor Centre. Backcountry camping allows campers to choose a camping zone and park at the designated trailhead. However, open fires are still prohibited.
If you are looking for places to eat during the day, there is the Harvest moon cafe and the whole Val Marie town you can explore. Or you may choose to eat your cooked food at any picnic area within the park.
Conclusion
Traveling in a van is a key to freedom. Staying or just passing by a place makes it easier when you have your home with you. The list above features great cabins, and there are still many places you can visit with your campervan or RV. Nothing should hold you back from doing what you love and enjoying your life. So grab the wheel and get on the road to visit these magical places, take nice pictures, and keep these memories in your mind and heart!